The coronavirus disease 2019 (COVID-19) pandemic has posed a series of new questions in management of patients. Increased attention has been paid to thrombotic and coagulation issues as altered coagulation parameters have been linked to the novel coronavirus-associated pneumonia. A guidance document for the management of coagulopathy has been recently proposed by the International Society of Thrombosis and Haemostasis.1
The more the disease spreads, the more healthcare professionals need precise information that can guide them in choosing the best strategies for patient care. An enormous volume of COVID-19-related publications is being published every day, becoming almost overwhelming.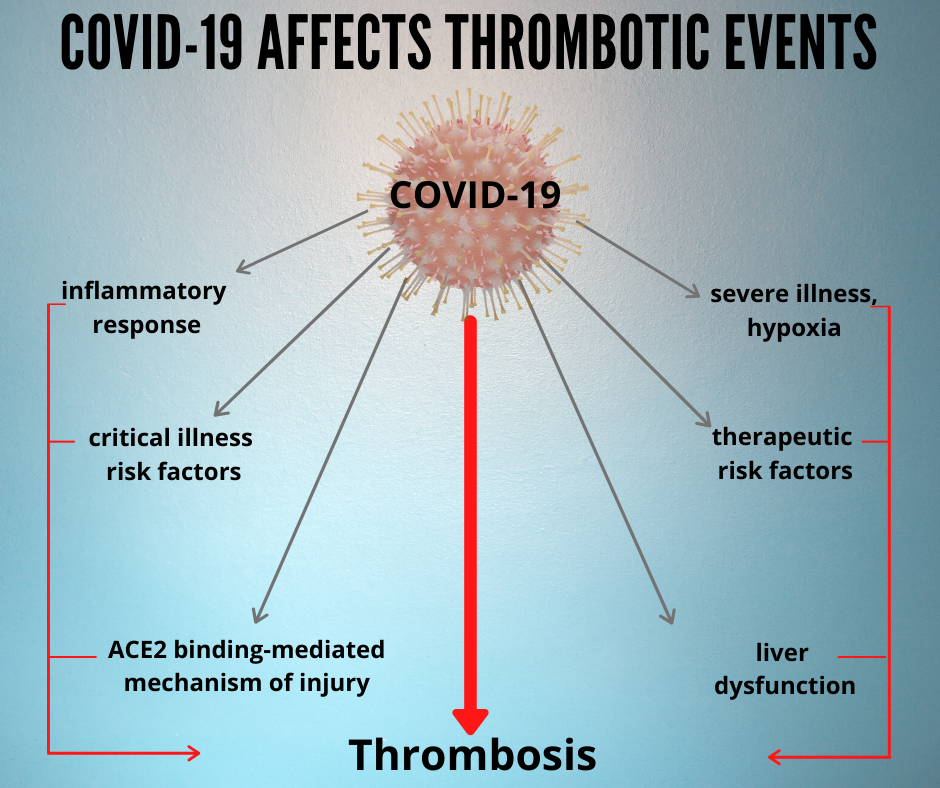 To guide us through this overload of data, a group of the most prominent experts in the field of thrombosis and hemostasis has reported, in a recent article, what is important to consider about COVID-19 and thrombotic or thromboembolic events.2
Here, we report a schematic summary of the major issues discussed in the paper to give an overview of what the clinicians have to deal with in this unprecedented time.
How COVID-19 can affect thrombotic risk for patients:

Patients who test positive for COVID-19 may show thrombotic events that were not present before infection. COVID-19 may either play a direct or an indirect role.
Patients who test negative for COVID-19 and suffer from thrombotic events may be subjected to impaired care (interruption of anticoagulation therapy).
Hemostasis parameters to be checked in COVID-19 patients to assess the possible thrombotic risks:

Thrombocytopenia3
Increased D-dimer levels4
So far, these are the most robust parameters associated with a higher risk of requiring mechanical ventilation, intensive care unit admission, or death, as data on other tests may be contradictory.5,6
The studies currently available on this topic are numerous, but they regard a limited number of patients. In addition, diagnostic tests, access to health care and therapeutic strategies may be influenced by the local authorities and, therefore, implications are uncertain as are practical indications for care. To deepen this topic, see "Coagulopathy and thrombosis in COVID-19 patients: parameters to be checked to assess disease severity".
Issues related to drug–drug interaction:

Several agents used in the management of severe COVID-19 display interaction with antiplatelet or anticoagulant agents
Some agents have been associated with increased or diminished risk for thrombotic events, or for thrombocytopenia, in studies on a non-COVID-19 population
VTE prophylaxis for hospitalized patients with COVID-19 should be undertaken in the following cases (except specific contraindications):

Patients who have respiratory failure or co-morbidities
Patients who are bedridden
Patients requiring intensive care
Type of prophylactic treatment: daily low-molecular-weight heparin (LMWH), or twice daily subcutaneous unfractionated heparin (UFH). Mechanical VTE prophylaxis is recommended in case of contraindication to pharmacological prophylaxis.7
Critically ill patients diagnosed with COVID-19 are at very high risk for thrombotic events:

Parenteral anticoagulation is recommended and UFH can be used in the setting of anticipated procedures, or in patients with deteriorating renal function.
If no urgent procedures are anticipated, LMWH is an alternative.8
Read more about VTE prophylaxis and the treatment of critically ill patients in: "Prophylaxis for COVID-19 and venous thromboembolism".
Management of patients with thromboembolic disease who are not diagnosed with COVID-19 must not be neglected:

To provide enough antithrombotic protection while minimizing physical contact between patients and healthcare workers
Early discharge for acute VTE should be instituted when possible8-10
Telemedicine should be the preferred method of follow-up, and in person visits should be reserved only for scenarios that cannot be addressed by telemedicine
Patient's pharmacotherapy should be followed, as it was done in the period prior to the pandemic
Eventually, the implications on healthcare providers and the role of healthcare systems and professional societies must not be forgotten. Further insight into these issues are given in: "Impact of COVID-19 on healthcare workers and health systems".
References
Thachil J, Tang N, Gando S, et al. ISTH interim guidance on recognition and management of coagulopathy in COVID‐19. J Thromb Haemost 2020. doi: 10.1111/jth.14810. [Epub ahead of print].
Bikdeli B, Madhavan MV, Jimenez D, et al. COVID-19 and thrombotic or thromboembolic disease: implications for prevention, antithrombotic therapy, and follow-up. J Am Coll Cardiol. 2020;S0735-1097(20)35008-7. doi:10.1016/j.jacc.2020.04.031
Lippi G, Plebani M, Michael Henry B. Thrombocytopenia is associated with severe coronavirus disease 2019 (COVID-19) infections: A meta-analysis. Clin Chim Acta 2020. doi:10.1016/j.cca.2020.03.022
Lippi G, Favaloro EJ. D-dimer is associated with severity of coronavirus disease 2019 (COVID-19): a pooled analysis. Thromb Haemost (In press). doi:10.1515/cclm-2020-0573
Lippi G, Plebani M. Laboratory abnormalities in patients with COVID-2019 infection. Clin Chem Lab Med 2020. doi:10.1515/cclm-2020-0198
Yang X, Yu Y, Xu J, et al. Clinical course and outcomes of critically ill patients with SARS-CoV-2 pneumonia in Wuhan, China: a single-centered, retrospective, observational study. Lancet Respir Med 2020.
World Health Organization. Clinical management of severe acute respiratory infection when novel coronavirus (2019-nCoV) infection is suspected. Interim guidance 28 January 2020. Accessible at: https://www.who.int/docs/defaultsource/coronaviruse/clinical-management-of-novel-cov.pdf
Kahn SR, Lim W, Dunn AS, et al. Prevention of VTE in Nonsurgical Patients: Antithrombotic Therapy and Prevention of Thrombosis, 9th ed: American College of Chest Physicians Evidence-Based Clinical Practice Guidelines. Chest 2012;141:e195Se226S.
Aujesky D, Roy PM, Verschuren F, et al. Outpatient versus inpatient treatment for patients with acute pulmonary embolism: an international, open-label, randomised, noninferiority trial. Lancet 2011;378:41-8.
Barco S, Schmidtmann I, Ageno W, et al. Early discharge and home treatment of patients with low-risk pulmonary embolism with the oral factor Xa inhibitor rivaroxaban: an international multicentre single-arm clinical trial. Eur Heart J 2020;41:509-518.