Cancer patients have a higher risk of developing venous thromboembolism (VTE) when compared with non-cancer patients. The specific profiles of cancer patients, co-morbidities, the use of anticancer treatment, and the cancer progression itself represent a major therapeutic anticoagulant challenge. Cancer-associated thrombosis (CAT) remains the number one cause of death during chemotherapy and the second-leading cause of all cancer deaths (after disease progression).1, 2
VTE is a leading cause of death and disability worldwide, with 544,000 VTE-related deaths every year in Europe alone.3 Moreover, a VTE or pulmonary embolism identifies patients at high risk of having occult cancer (three-times the risk at 6 months of cancer diagnosis).4
Up to 60% of VTE cases occur during or up to 90 days after hospitalization, making it a leading preventable cause of hospital death.5 VTE is a life-changing and traumatic event, more so when associated with cancer. Among survivors of VTE, a significant burden of chronic morbidity (including painful post-thrombotic syndrome) has been reported and is associated with a major impact on quality of life.
Patients must understand their diagnosis and empower them with the information to work in partnership with their doctor and nurses for optimal recovery. This is particularly important when dealing with cancer patients. These patients are already dealing with a life-threatening health issue, creating the need to invest in CAT information and recovery and support programs for patients.
Cancer is a disease with many challenges and complexities, and many CAT patients consider getting a life-threatening blood clot the most terrifying part of the cancer journey.
Healthcare professionals can help to change that by ensuring that every patient is given the following information at their cancer diagnosis and repeatedly, at every opportunity during their treatment:
Cancer can cause potentially fatal thrombotic events by making the blood 'sticky'. 50% of all CAT incidents occur in the first 3 months of diagnosis, so it is important to encourage patients to be vigilant.
Cancer patients should be reassured that blood clots treatment is very effective and safe. The vast majority of patients experience minimal or no side effects. Once taken the medication as prescribed, there is a very low risk of becoming unwell or getting another clot.
Surgery, peripherally inserted central catheter (PICC) lines, and some cancer treatment medications also increase the risk of thrombosis. It is vital to inform cancer patients if their chemotherapy is pro-thrombotic so they can be ultra vigilant and forewarned. It is important to ensure they are well informed of all the signs and symptoms and understand the importance of getting medical attention immediately if they suspect they have a blood clot.
Patients should be assured that their risk of developing thrombosis has been assessed and will be continuously re-evaluated, when necessary, during their treatment.
Blood clots are preventable in many cases. Encourage patients to be proactive in prevention by following the following simple suggestions:
Keep active as much as possible
Stay hydrated
Quit smoking
Listen to their body and speak up if they suspect a clot
Work with your healthcare provider during the entire journey
Cancer patients should ask:
For a VTE risk assessment
For information on the signs to watch out for
If their treatment drug is pro-thrombotic to be extra vigilant
What they can do to help prevent blood clots
For help in challenging moments or whenever in doubt
It is imperative to arm cancer patients with the tools to protect themselves, especially when they are discharged from the hospital and getting on with their lives. How can they do this if they do not know about their risk, the signs to watch for, or the need for medical attention fast? This knowledge can save their life and empower them to participate in their own survival.
These cards can be shared with cancer patients in order to empower their knowledge.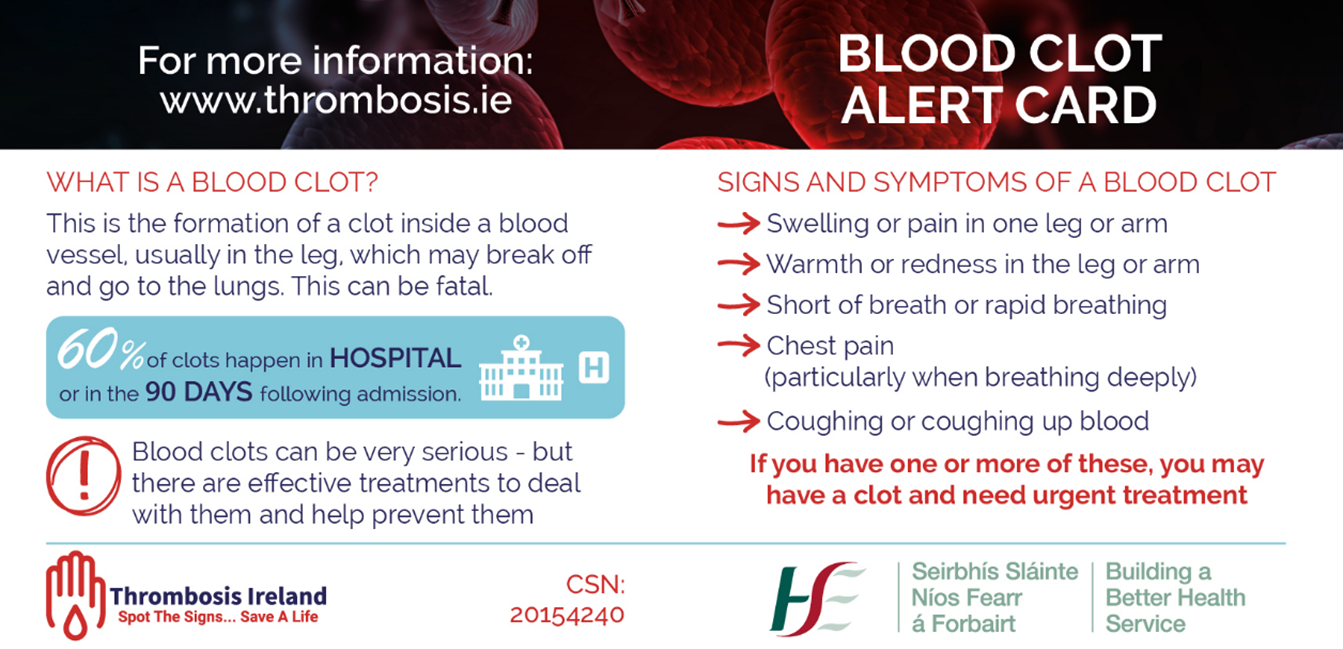 Reproduced with permission from thrombosis.ie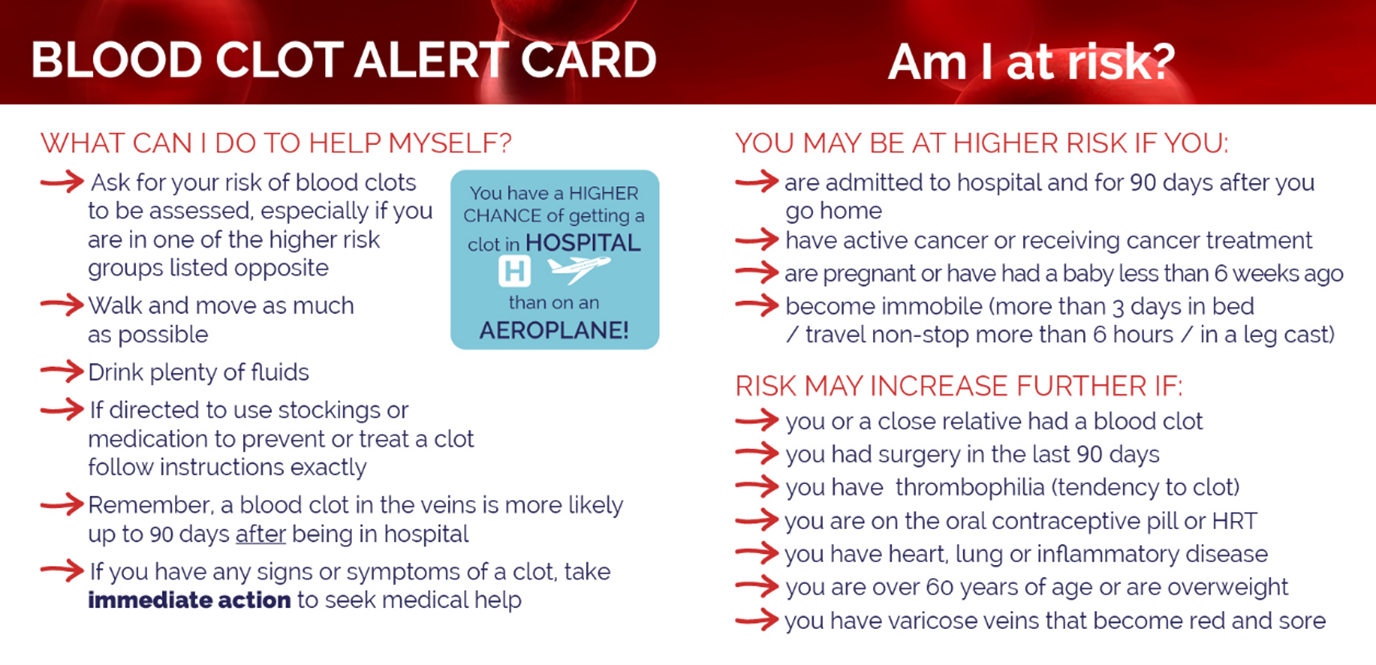 Reproduced with permission from thrombosis.ie
This is what some CAT patients have to say :
"Ask me if I am experiencing symptoms of blood clots, as well as asking about my temperature at every opportunity."
"Don't be afraid to scare me. I am already scared and receiving so much new information."
"How can I protect myself if I am not informed?"
"I want to be told again and again until you are sure I heard you."
"Inform me if my Chemotherapy is pro-thrombotic so I can be vigilant and forewarned; I don't need any more surprises."
The key is communication at every opportunity; take the time to talk to cancer patients, give a Blood Clot Alert Card, put CAT awareness posters in your treatment clinics, and test the risk for VTE.
Tell them about Thrombosis Ireland and the support and information available. Let them know they are not alone on this blood clot journey.
Visit www.thrombosis.ie and download the CAT booklet https://thrombosis.ie/wp-content/uploads/2020/09/CAT-A4-leaflets-1.pdf
References
Mahajan A, Brunson A, Adesina A, Keegan THM, Wun T. The incidence of cancer-associated thrombosis is increasing over time. Blood Adv. 2022;6(1):307-320.
Noble S, Prout H, Nelson A. Patients' experiences of living with cancer-associated thrombosis: the PELICAN study. Patient Prefer Adherence. 2015;9:337-345.
Milling TJ Jr, Frontera J. Exploring indications for the Use of direct oral anticoagulants and the associated risks of major bleeding. Am J Manag Care. 2017;23(4 Suppl):S67-S80.
Sørensen HT, Mellemkjaer L, Steffensen FH, Olsen JH, Nielsen GL. The risk of a diagnosis of cancer after primary deep venous thrombosis or pulmonary embolism. N Engl J Med. 1998;338(17):1169-1173. doi:10.1056/NEJM199804233381701
Jha AK, Larizgoitia I, Audera-Lopez C, Prasopa-Plaizier N, Waters H, Bates DW. The global burden of unsafe medical care: analytic modelling of observational studies. BMJ Qual Saf. 2013;22(10):809-815. doi:10.1136/bmjqs-2012-001748