The COVID-19 outbreak has now spread worldwide, and the number of severe cases is increasing exponentially. Besides the well-described respiratory insufficiency,1 one of the reported poor prognostic features in patients with systemic disease and multiple organ dysfunction is the development of coagulopathy,2 which may aggravate the prognosis of patients.3
The International Society of Thrombosis and Haemostasis (ISTH), thanks to its long-term expertise in dealing with coagulopathy in different settings, has promptly proposed an algorithm for the specific management of COVID-19 coagulopathy, which is useful in both the well-resourced and less-resourced settings.4
This is a "work-in-progress" statement, as the authors realize that, given the current dynamic situation, there will be a necessity of constant updates, in agreement with the progression of the knowledge of COVID-19.
Nevertheless, it is mandatory to define and share the algorithm in the current time of emergency.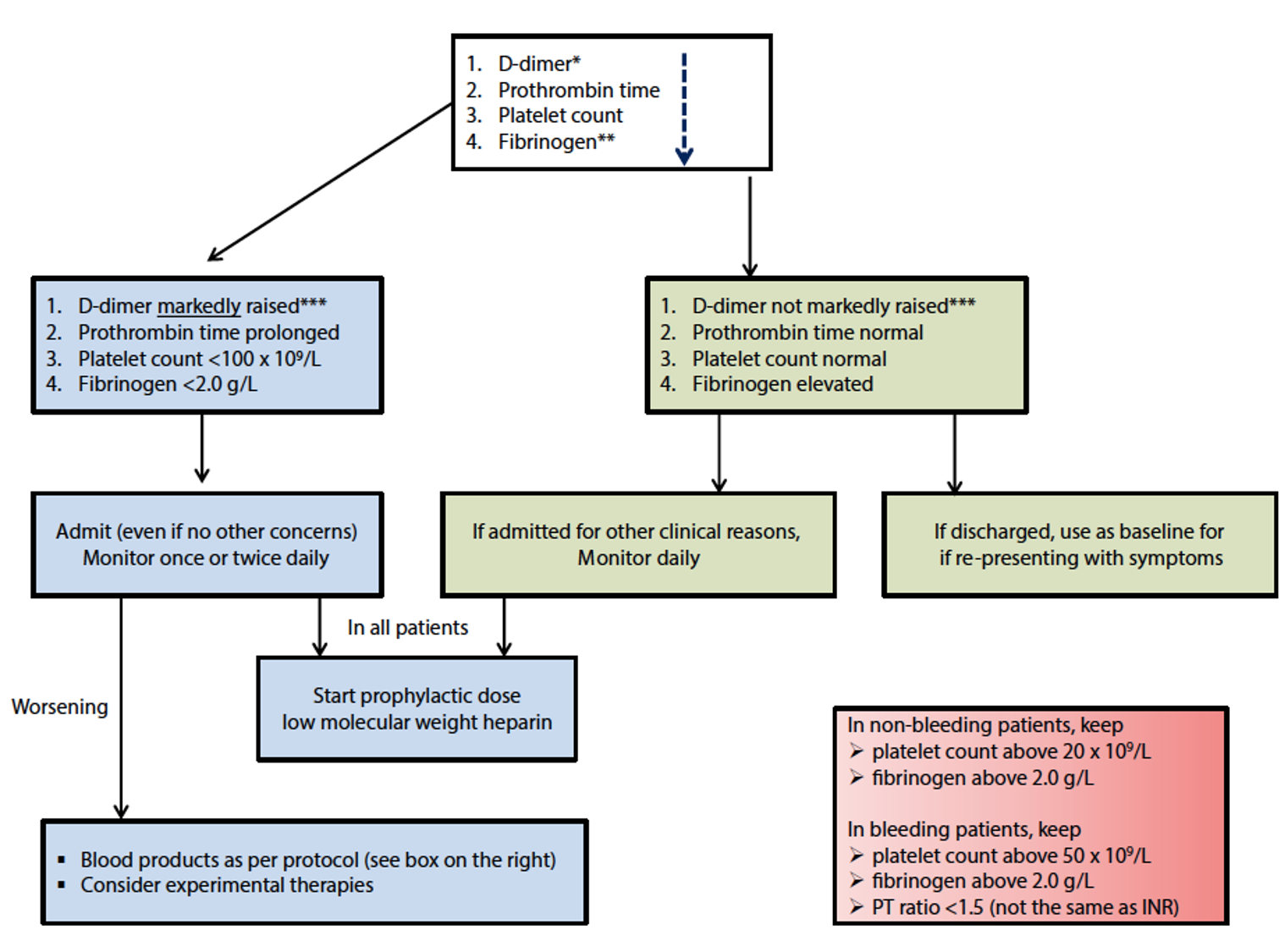 This guidance document provides a schematic, fast-risk stratification at admission for a COVID-19 patient on the basis on easily available laboratory parameters, assuring the best assistance (Figure 1).
Coagulation markers suggested to be checked at admission are:
D-dimer, which was not only found to be increased in COVID-19 patients,3 but also associated with the most severe cases;2
Prothrombin time, shown to be mildly prolonged in patients who need critical care support;5
Serum fibrinogen as an indicator of disseminated intravascular coagulation, which was shown to develop in patients who did not survive the diseases.3
The recommendation for the management of coagulopathy in COVID-19-positive patients is the prophylactic dose of low-molecular-weight heparin (LMWH), which should be considered in ALL patients (including the non-critically ill).
The only exception is for patients with contraindications as follows:
Active bleeding and platelet count <25 × 109/l;
Severe renal impairment.
It has to be noted that abnormal prothrombin time is not a contraindication.
Extensive clinical evidence supporting the use of LMWH in the COVID-19 setting is currently being generated. Its use  protects against venous thromboembolism and in light of its anti-inflammatory properties, may counteract the cytokine burst characteristic of COVID-19.2,5
References
Xu Z, Shi L, Wang Y, et al. Pathological findings of COVID-19 associated with acute respiratory distress syndrome. Lancet Respir Med. 2020. pii: S2213-2600(20)30076-X. doi: 10.1016/S2213-2600(20)30076-X. [Epub ahead of print].
Guan WJ, Ni ZY, Hu Y, et al.; China Medical Treatment Expert Group for Covid-19. Clinical characteristics of coronavirus disease 2019 in China. N Engl J Med. 2020 Feb 28. doi: 10.1056/NEJMoa2002032. [Epub ahead of print].
Tang N, Li D, Wang X, Sun Z. Abnormal coagulation parameters are associated with poor prognosis in patients with novel coronavirus pneumonia. J Thromb Haemost 2020;18(4):844-847. doi: 10.1111/jth.14768.
Thachil J, Tang N, Gando S, et al. ISTH interim guidance on recognition and management of coagulopathy in COVID‐19. J Thromb Haemost 2020. doi: 10.1111/jth.14810. [Epub ahead of print].
Huang C, Wang Y, Li X, et al. Clinical features of patients infected with 2019 novel coronavirus in Wuhan, China. Lancet 2020;395:497-506.